Video is an example of the Rugby League Nines format – Courtesy of Fox Sports
A
new

international rugby league tournament is coming!
2022 |  SAMOA
(Provisional date –  to be confirmed in accordance with Covid 19 developments)
The world's Rugby League media, fans, and players from across the globe will have their eyes firmly focused on Samoa for the inaugural WORLD NINES – Confederation Cup, an International Rugby League (IRL) sanctioned tournament.   Samoa will host the historic and exciting opening ceremony and three-day tournament, with men's and women's teams from around the world. 
This is the first rugby league tournament that showcases all new global talent except for NRL and Superleague players, sanctioned by the International Rugby League.
RUGBY LEAGUE NINES FORMAT
IT'S SUPER FAST, HIGH ENERGY  
PLAYING NINES IS THE OPPORTUNITY PATHWAY FOR PLAYERS INTO RUGBY LEAGUE INTERNATIONAL 13's FORMAT
RUGBY LEAGUE INTERNATIONAL 13's FORMAT
THE HIGH INTENSITY COLLISION GAME OF RUGBY LEAGUE WITH 13 PLAYERS ON FIELD 
Rugby League International 13's format – State of Origin game featuring Blues and Maroons – Courtesy of NSWRL
Every international sport has a modified games program, and rugby league has modified their program to also include from 13 participants to that of nine participants. The need for  rugby league to introduce Nines was twofold. Initially it was to introduce emerging nations because of their limited player experience of rugby league without the specificity of requirements which are prevalent in an international 13's game.
Nines has also now taken on another really important role, to be able to introduce new nations to the game, providing the athletes with  psychological and physiological approaches to the aggression which is part of rugby league.
World Nines – competing for the Confederation Cup in Samoa is unique and a world first,  in that its selections are limited to athletes who are not registered with the NRL and Super league. This will have an ongoing benefit by creating player opportunity and inclusion by invitation to nations that include both developing and developed rugby league countries. It will feature the new rugby league talent pool from powerhouse nations, some never seen before.
"This World Nines tournament, devised by my good friend Paul Broughton, allows emerging nations for emerging nations and emerging nations, all over the world to compete on a stage like this. It will not only highlight and bring a spotlight to rugby league globally, but it will also bring a spotlight to this beautiful country of Samoa and I really applaud the Hon. Prime Minister and Cabinet for taking on this venture."
— Phil Gould AM
Registrations Opening Soon.
Please join the mailing list for important updates.
Registrations Opening Soon.
Please join the mailing list for important updates.
Registrations Opening Soon.
Please join the mailing list for important updates.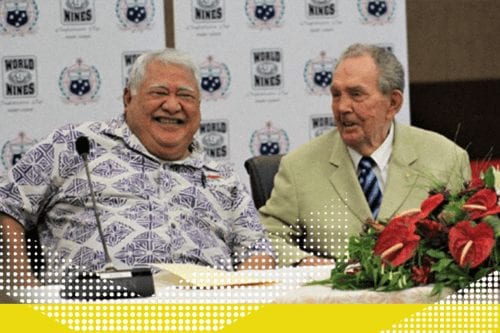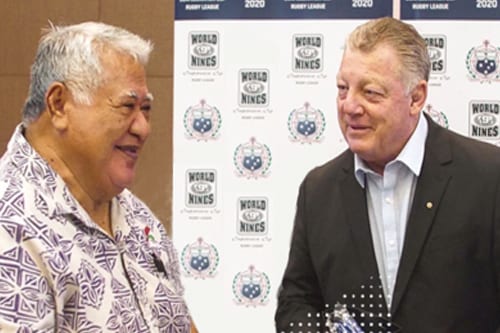 Honourable Prime Minister Tuilaepa Dr. Sailele Malielegaoi's Keynote Address for the launch of the Inaugural WORLD NINES – Confederation Cup to be held in Samoa in October 2020.
read more
The Honourable Prime Minister of SAMOA, Tuilepa Dr Sa'ilele Malielegaoi, officially launched the Inaugural WORLD NINES – Confederation Cup at the Government of Samoa Conference Centre in Apia today.
read more
BE PART OF THE FUTURE
SPONSORSHIP OPPORTUNITIES
A rare opportunity to be part of a new international sporting event.
Secure your place now.